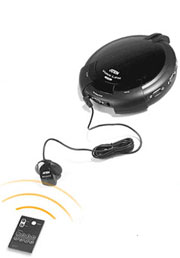 General Description
The VS881 is a video switch with 8 ports. It allows 8 independent computers or notebook computers to display their video outputs on a single monitor or using a multimedia projector. Therefore, users will not need to buy monitors for each computer additionally.
Features & Benefits
Displays the video output of eight separate computers on a single monitor or projector.
New modern concentric design with logical connector layout for quick and easy access
Quick and easy switching via front panel pushbuttons or IR remote control
External IR receiver (1.8m) for maximum efficiency and convenience
Extra-thin IR handset allows easy storage in the mother unit
Long distance transmission - up to 10m
Hih video resolution - up to 2048 x 1536
DDC, DDC2, DDC2B Compatible.
Supports VGA, XGA, SVGA, UXGA, QXGA and Multisync monitors.
Package Contents
1 x 8-Port Video Switch
1 x IR Remote Control Unit
1 x Infrared Receiver
1 x VGA Cable (1.2m)
1 x Power Adapter
1 x User Manual
1 x Quick Start Guide
Typical Usage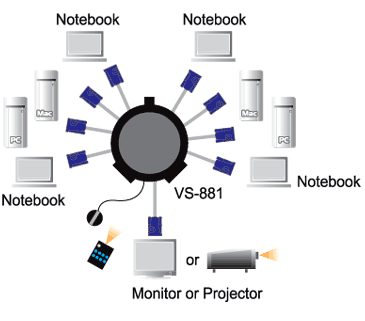 Specification
Computer Connections
8
Port Selection
Pushbutton, IR Remote Control
Connectors
Video In
8 x HDB15 Male (Blue)
Video Out
1 x HD15 Female (Blue)
IR
1 x Mini Stereo Jack Female (Black)
Power
1 x AC Jack (Black)
Switches
Port
2 x Pushbutton (1 x Up, 1 x Down)
LEDs
On Line/Selected
8 (Orange/Green)
VGA Display On/Off
1 (Blue)
IR Sensor
1
Video
2048 x 1536 @ 60Hz
Power Consumption
AC9V, 4.5W
Environment
Op. Temp
0˚C~50˚C
Storage Temp
-20˚C~60˚C
Humidity
0~80% RH, NC
Physical Properties
Housing
Metal
Weight
0.45kg
Dimensions (L x W x H)
17 x 19 x 4.5 cm